A collaborative work tool open to the outside world

TEAMWORK
AND FOLLOW-UP OF TASKS

PRIVATE SPACE
TO BETTER COLLABORATE

SECURE MESSAGING AND
SECURE VIDEO CONFERENCING
Unite
your teams and partners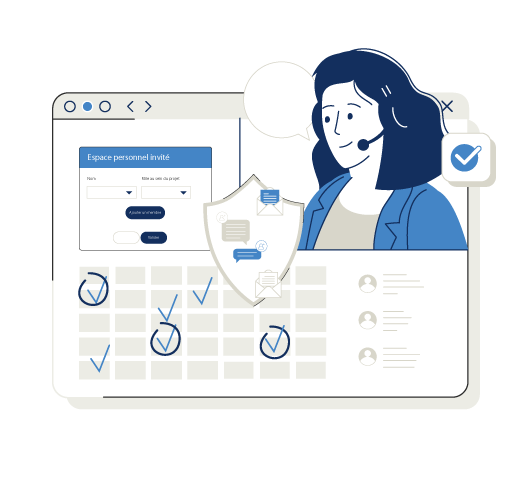 Work together
Save time and reduce the risk of errors. All team members work on the same document at the same time. Automatic saving allows you to go back to a previous version for more security.
Exchange
Even if your employees are far away, you need to stay in touch. With our instant messaging and video conferencing system, work together no matter how far away you are.
Integrate your partners
If all parties involved in the case cannot work together, then there is nothing collaborative about it. Our solution? Give the partners access to the file for which they have been assigned and in which they will participate in the drafting of their own documents, exchange with you via secure messaging and archive all their work.
Manage your files
Never be lost in your files again. Through our intelligent scheduling module, you can access all your past, current and future tasks. Easily estimate the remaining hours to be billed to review or adjust your budget.
Manage your team
Follow theactivity of your teamsin real time and assign them tasks. You will be alerted of the progress of these tasks and the due dates. An audit trail provides automatic time registration and gives you direct access to the hours worked by your team.
Security
Protect your work and keep your exchanges confidential. All conversations and messages are encrypted to ensure that what you say is kept confidential.
You hesitate?
request a free demonstration